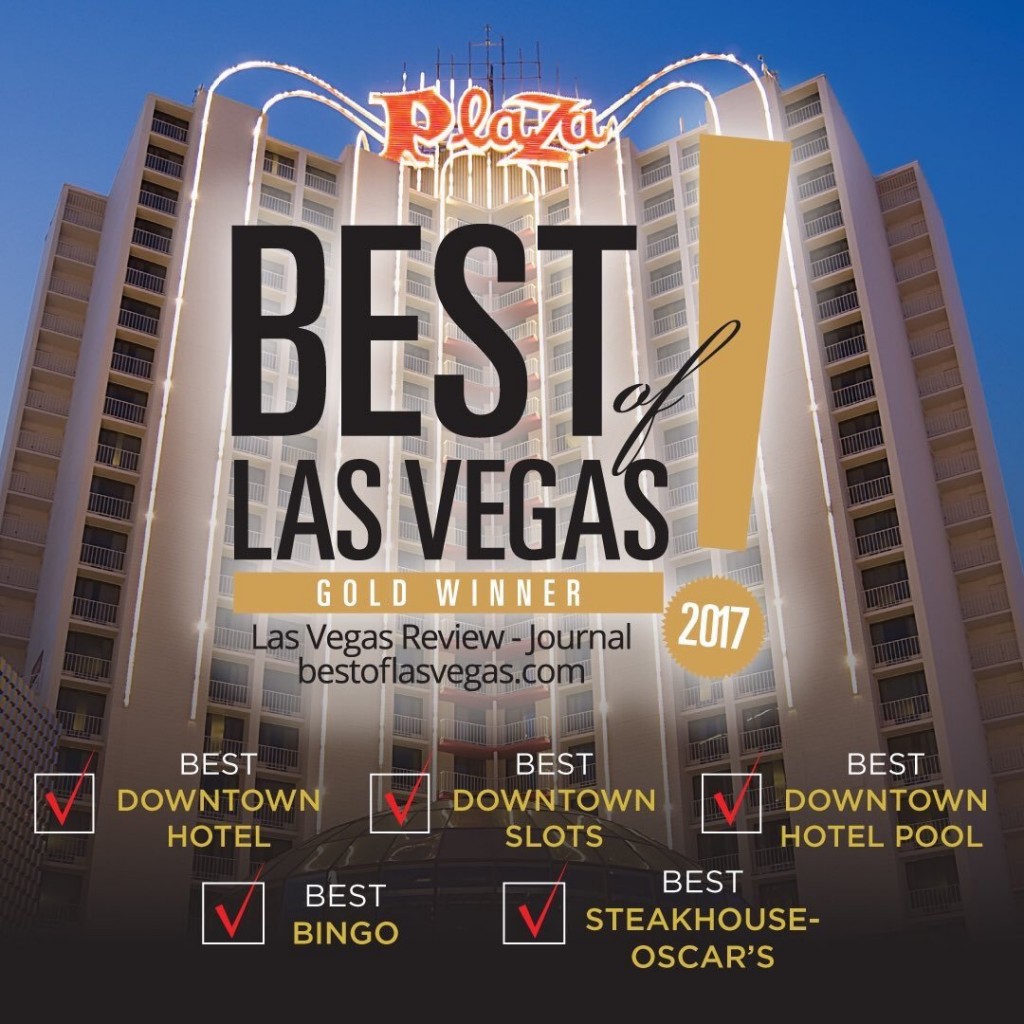 Las Vegas is a big beautiful city where people come to dream and play. The casino lights and glamour of the city are dazzling to locals and visitors alike and the splendor of the city can sometimes be overwhelming. It can be hard to decide what is worth your time and what isn't, especially if you're on a short vacation to Las Vegas. There's so much to do here and even living here it's nearly impossible to do it all.
Luckily, The Best of Las Vegas has dedicated the time and effort to searching the city for the best places to go for many different categories, so you won't have to waste your time researching or guessing where the Vegas hot spots are. It's no surprise that the iconic Plaza Hotel and Casino in downtown Las Vegas came out on the top in several categories.
The Plaza was voted first place in 2017 for:
Best Bingo in Las Vegas
Best Steakhouse in Las Vegas for our steakhouse, Oscar's
Best Pool in Downtown
Best Slots in Downtown
Best Hotel in Downtown
Plaza also took second place for Downtown Table Games. This means that the Plaza can be your ultimate destination for a great time in Vegas.
What Is Best of Las Vegas?
The 2017 Best of Las Vegas, invites, engages and allows their audience to vote for their favorite businesses in multiple categories, 290 to be exact. The winners are decided by locals and tourists in several categories including, things to do, places to go, and more.
The Best of Las Vegas relies on their audience to supply them with the name of outstanding businesses and recognizes those winners every year in their annual Best of Las Vegas awards.
Winners are announced in Mid-November and all winners are honored in the Las Vegas Review-Journal's special section publishing the Best of Las Vegas.
How to have The Best of Las Vegas in one day?
To have a perfect day at The Plaza you can check in and spend some time by our rooftop pool. When you're done relaxing by the pool you can try your luck at bingo, slots, or one of the many table games. Then go out and explore the Fremont Street Experience and cultural district of downtown Las Vegas. After your adventure, come back and have an excellent dinner at Oscar's Steakhouse then end the night with a great night's sleep in one of the many comfortable hotel rooms that The Plaza has to offer.
In a city as great as Las Vegas, it's easy to find many places to have fun and relax. There is no shortage for a good time in the city and you'll always be able to find something to do, see, eat, or drink. But, why settle for good when you can stay with the best?
Voting is now open for 2018
We are excited to have won Best of Las Vegas 2017 and honored to be nominated again for 2018! Now we need your continued support to help us win the categories got nominated for this year.
VOTE TODAY